New and used parts for IVECO engines
FPT IVECO engine parts have been our specialisation for many years.
This advanced engine manufacturer, with a broad range of products for automotive, industrial, marine, agricultural and construction applications, is part of CNH-i, Fiat Industrial Group. (including Fiat, Iveco, CNH, CASE, New Holland, Kobelco, Komatsu, Landini, Merlo, HITACHI, etc.) (including Fiat, Iveco, CNH, CASE, New Holland, Kobelco, Komatsu, Landini, Merlo, HITACHI etc.)
With large stocks of new, remanufactured (replacement) engines and spare parts, we guarantee fast delivery worldwide.
WHEN YOU CHOOSE IVECO, YOU CHOOSE QUALITY! VECO guarantees that products
meet quality standards for raw materials and production processes in the spare parts supply chain.
For the maintenance and repair of your Iveco heavy-duty engines, the ENGINE SHOP supplies spare parts from the smallest bolts to engine blocks. The ENGINESWAREHOUSE can provide you with a fast and reliable supply of spare parts for all current IVECO engines, the latest model series, and older models.
The heavy equipment manufacturer Iveco is well-known and respected in the heavy equipment market.
The Iveco engine parts we offer are suitable for a wide range of Iveco models.
IVECO is constantly evolving to stay ahead of the competition. Here you will find new and used parts. Used IVECO parts are tested to ensure the original quality of the technical parameters.
MAIN IVECO ENGINE PARTS FOR REPAIR
Piston kits
Pistons and piston rings (various repair sizes)
Connecting rods
Engine blocks (longblock, shortblock)
Cylinder heads
Seal kits, gaskets
Water pumps
Radiators
Fuel injection pumps, nozzles, fuel delivery pumps
Crankshafts
Piston and crankshaft bearings (various repair sizes)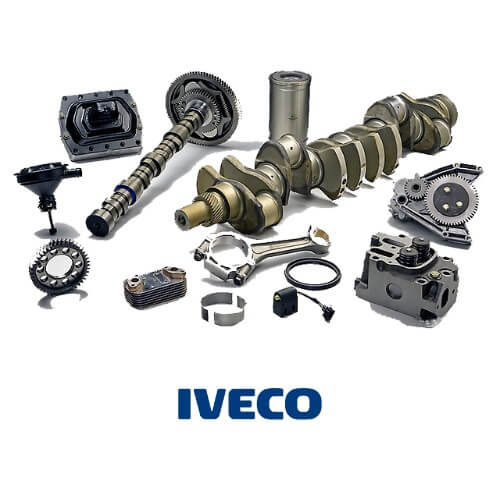 To order IVECO engine spare parts, you can contact us using the contact details on this website.
For more engine parts, see: